Trump's Jerusalem move 'unhelpful'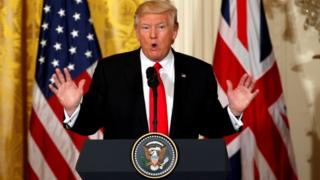 President Donald Trump's decision to recognise Jerusalem as Israel's capital is "unhelpful" for the prospects of peace in the Middle East, Foreign Office Minister Alistair Burt has said.
He told MPs the UK disagreed with the president and stressed it had "no plans" to move the British embassy in Israel from Tel Aviv.
Labour's Emily Thornberry said the move was "reckless" and had taken a "hammer blow" to the peace process.
"He is setting it back decades."