Singapore Air re-routes flights after North Korea missile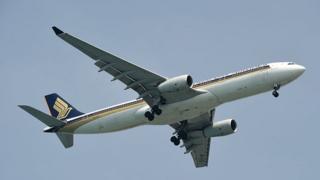 Singapore Airlines has changed the path of its Seoul-Los Angeles flights after a recent North Korean missile test.
The airline told the BBC that it had re-routed the flights after after Pyongyang launched an intercontinental ballistic missile (ICBM) in July.
North Korea has ramped up such tests in recent months, which it does not announce beforehand - unlike other countries.
Their projectiles' flight paths are unknown, posing a danger to planes.
The July missile, which landed in the sea off Japan, had also prompted Air France to expand its no-fly zone around North Korea, after the airline found out the projectile may have been as close as 100km (62 miles) to one of its planes .
Recent launches have landed in Japanese waters, including September's missile test, which reportedly led Lufthansa, Scandinavian and Swiss Airlines to also re-route their flights into Japan.
A Japan Airlines spokesman told the BBC that as of Thursday, all routes were deemed "safe to operate", but were "prepared to implement any route changes as needed".
On 29 November, Pyongyang fired what it claimed to be a new type of ICBM that could hit mainland US.
Hong Kong airline Cathay Pacific said earlier this week that the crew onboard one of its planes witnessed what they believed to be that missile's re-entry into the atmosphere.