Milos Forman: One Flew Over the Cuckoo's Nest and Amadeus director dies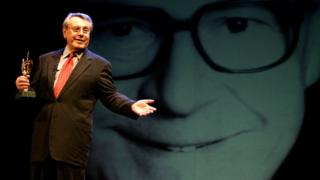 Film lovers are mourning director Milos Forman, who won Oscars for One Flew Over the Cuckoo's Nest and Amadeus.
The Czech-born film-maker, who was 86, was one of a small number of foreign directors to enjoy lasting commercial and critical success in Hollywood.
One Flew Over the Cuckoo's Nest starred Jack Nicholson and won five Oscars in 1976, while 1984's Amadeus won eight.
Director Edgar Wright was among those paying tribute, saying he "documented the rebel heart and human spirit".
Very sad to hear that the great director Miloš Forman has passed away. He had a tremendous filmography that documented the rebel heart and human spirit. I have seen 'One Flew Over The Cuckoo's Nest' enough times to be able to silently mouth along with the movie. RIP. pic.twitter.com/4QwOHL7tS4
End of Twitter post by @edgarwright
He was "a great director" with "a tremendous filmography", Wright wrote on Twitter.
Forman's other English-language films included 1996's The People vs Larry Flynt, which earned him his third best director Oscar nomination, and 1999's Man on the Moon.
Antonio Banderas, who has said he was inspired to become an actor when he watched Forman's 1979 musical Hair, described him as a "genius of cinematography and master in the portrayal of the human condition".
Farewell to Miloš Forman, who never made the same film twice, and never made one without interest. Now's a good time to seek out the wonderful TAKING OFF if you've never seen it.
End of Twitter post by @GuyLodge
Milos Forman won the Oscar for Best Director twice, and yet he was still one of the most under appreciated filmmakers of the 20th century. RIP Milos, and thanks for the films that will live on for generations to come.
End of Twitter post by @YesitsAlistair
Very sad to see that the great Miloš Forman has died at 86. A brilliant director who made only about a dozen feature films, every one of which is worth revisiting. Hair, Amadeus, Cuckoo's Nest--an indelible legacy.
End of Twitter post by @MarkHarrisNYC
Forman was born in Czechoslovakia in 1932 and became an orphan when both his parents were killed in Nazi death camps during World War II.
He made his name as a leading figure in Czech new wave cinema in the 1960s, but moved to the US when Russian troops invaded in 1968.
His first feature in the US, 1971's Taking Off, was a critical if not commercial success. But the follow-up, One Flew Over the Cuckoo's Nest, firmly established him in Hollywood.
It was one of the biggest box office hits of 1975, taking more than $100m, and became only the second film in history to win Oscars for best picture, director, actor, actress and screenplay.
The film starred Nicholson as a man battling the system in a psychiatric establishment and was based on Ken Kesey's novel.
"To me it was not just literature but real life, the life I lived in Czechoslovakia from my birth in 1932 until 1968," Forman once said.
"The Communist Party was my Nurse Ratched, telling me what I could and could not do."
The director followed that with Hair and 1981's Ragtime before Amadeus, a look at the life of 18th Century composer Wolfgang Amadeus Mozart through the eyes of his rival Antonio Salieri. Its Oscars included best picture and best director.
After 1989's Valmont, he made The People vs Larry Flynt, with Woody Harrelson cast as the porn publisher.
Three years later, Forman cast Jim Carrey to star in Man On The Moon, the biopic of comedian Andy Kaufman.
When Forman was honoured with a lifetime achievement award from the Directors' Guild of America in 2012, the guild's president Taylor Hackford said he "finds the universality of the human experience in every story".
Forman was married to actresses Jana Brejchova and Vera Kresadlova, having twin boys with the latter.
In 1999, he married screenwriter Martina Zborilova, with whom he also had twin sons, Andrew and James - named after Andy Kaufman and Jim Carrey.
He died on Friday in the US after a short illness, Martina told Czech news agency CTK.
"His departure was calm and he was surrounded the whole time by his family and his closest friends," she said.
Follow us on Facebook, on Twitter @BBCNewsEnts, or on Instagram at bbcnewsents. If you have a story suggestion email entertainment.news@bbc.co.uk.