Westminster inquest: Attacker's mother 'found out on TV news'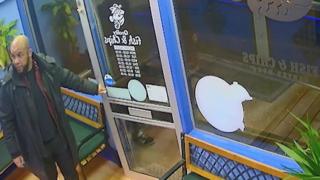 The mother of the Westminster attacker Khalid Masood has said she only found out about his deadly actions on the TV news - but then it all "made sense".
Janet Ajao told the inquest into the deaths of five people killed by her son he had mentioned that people would accuse of him of being a terrorist.
But she said that at the time she "had no idea what he was referring to".
Masood, 52, stabbed PC Keith Palmer to death outside Parliament, after running down four pedestrians in his car.
Mrs Ajao told the hearing that when she last saw him - days before the attack on 22 January 2017 - he just looked at her and said "they'll say I'm a terrorist but I'm not".
"I know it sounds ridiculous but it didn't enter my head," she said. "I'm utterly ashamed. I'm ashamed he's done this."
The inquest into the deaths of PC Palmer, 48, Kurt Cochran, 54, Leslie Rhodes, 75, Aysha Frade, 44, and Andreea Cristea, 31, is taking place at the Old Bailey in London.
An inquest into the death of Masood - who was shot dead by armed officers during the attack - will take place afterwards.
Mrs Ajao said her son had "always been a fiery, angry personality" who once turned into the "Incredible Hulk" in a row over a chicken dinner.
She added he would go "on and on and on" about Islam after he converted while in prison for a wounding offence but had never expressed extremist views to her or hostility towards other people.
'Golden opportunity missed'
The inquest heard Masood had seen his mother at her Welsh farmhouse only days before the attack - travelling there in the rented Hyundai Tucson car which he would later use to kill four people on Westminster Bridge.
A barrister for some of the victims' families, Gareth Patterson QC, told Mrs Ajao that a "golden opportunity" was missed to prevent the attack by her failure to "follow up" on his comments to her.
Mrs Ajao said: "With hindsight, yes, I can see it would have made a difference... but at the time it didn't occur to me that this was going to happen."
She explained her son had been involved in violent incidents in the past but she thought he had settled down with his second wife and young children.
Mrs Ajao told the inquest she remained unaware of the Westminster attack until she watched the news at 22:00 that night which featured images of her son at the scene.
"As soon as I saw the body, I just knew. I just knew," she added.
Turning to the victims' families after her evidence, Mrs Ajao added: "Please understand I continue to be deeply saddened by the hurt that my son has caused and want to offer my deepest sympathies and condolences."
Earlier, Mrs Ajao said she had been "upset" by an email Masood sent her in May 2013 in which he blamed failings in his life on not having gone to grammar school like his two stepbrothers.
"I became an awful teenager.... I felt so angry, frustrated and unloved. I began smoking, taking drugs and getting drunk on a regular basis," he had written.