Legends can't be copied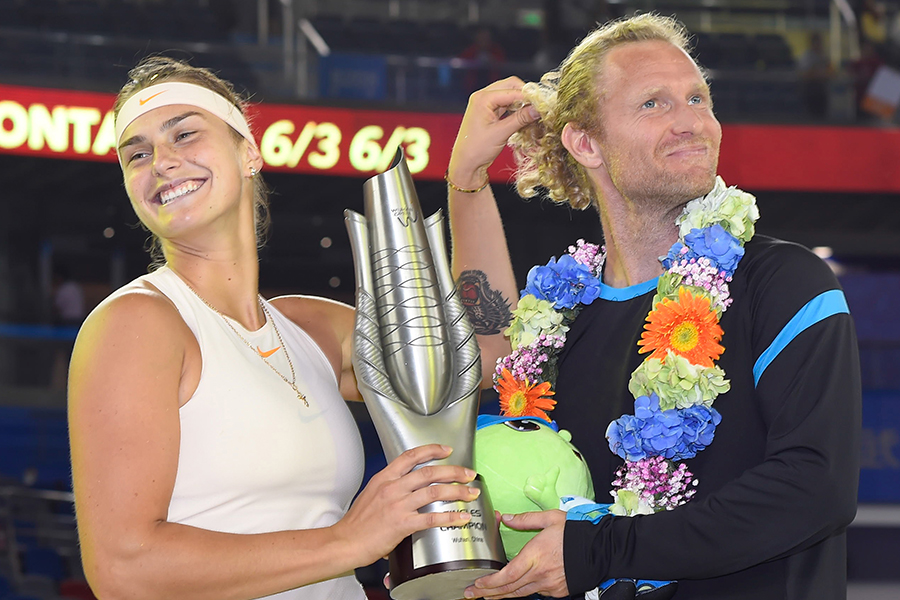 Aryna Sabalenka of Belarus celebrates with her coach after winning the WTA Dongfeng Motor Wuhan Open on Saturday in Wuhan, Hubei province. Sabalenka defeated Estonia's Anett Kontaveit 6-3, 6-3 to claim her second title of the season. [Photo/Xinhua]
Chinese icon Li urges talented up-and-comers to 'just be yourself'
Aryna Sabalenka's triumph over Anett Kontaveit in Saturday's final duel at the Premier 5 Wuhan Open not withstanding, the absence of Chinese players reminded fans that the nation still awaits a worthy successor to two-time Grand Slam champion Li Na.
Four years ago at the same tournament, Wuhan native Li bid tennis a memorable farewell, receiving flowers from her friend Caroline Wozniacki and deafening cheers from a huge crowd at the Optics Valley International Tennis Center in the capital of Hubei province.
No one wanted her to leave, but she knew the time had come. And while some fans still fantasize about a comeback, Li wants no part of it.
"Honestly, I don't want people to remember me," Asia's first Grand Slam singles champion said. "That would mean that Chinese tennis hasn't grow up or improved.
"I've been retired for four years, but I always have to answer the same question: 'Where's the next Li Na?' I have to say that everyone's different. No way to copy. You have to be yourself."
Li never actually left tennis. As global ambassador for the Wuhan Open, she works tirelessly to promote tennis in China and make the sport a calling card for her hometown.
"Li Na's global influence was definitely a determining factor in getting a WTA tournament here in Wuhan," said Fabrice Chouquet, tournament co-director. "That's the best way to develop tennis in China."
Although Li is adamant about "never thinking of myself as a hero," her achievements are an ongoing inspiration for a new generation of Chinese stars, including Wang Qiang, who made it to the semifinals at this year's tournament.
"Li Na is my role model and she's why I play. If I could play like Li Na, I'll feel my life would be perfect," said Wang, the world No 34.
The 26-year-old had a breakthrough second half of the season, beating multiple Grand Slam winner Venus Williams at the French Open in June and winning the Jiangxi Open in July. She also struck gold in singles at the Asian Games in August before making it to the third round at the US Open two weeks later.
Wang claimed her second title at the Guangzhou Open and then continued her magic in Wuhan, where she defeated Maria Sakkari, Karolina Pliskova, Daria Gavrilova and Monica Puig to advance to Friday's semifinal-the deepest run a Chinese player has ever managed at the tournament.
Peter McNamara, Wang's Australian coach, said much of the credit for her improvement should go to Li.
"We can all look up to Li Na," said McNamara, a three-time Grand Slam doubles champion. "She's the first person that Chinese players should look up to. She's been instrumental in bringing the younger players up, because she's an icon."
During an exclusive interview with China Daily, McNamara also mentioned 17-year-old Wang Xiyu as an example of Li's influence.
When she received a qualification round wild card for the Wuhan Open, many did not believe Wang Xiyu could make into the main draw, but she proved her worth by getting two straight wins in the qualifying rounds and defeating world No 72 Bernarda Pera in the opening round.
Although she lost to world No 13 Daria Kasatkina in the second round, Wang showed her potential to the world, especially given that the teenager won this year's US Open girls' singles title and claimed the Wimbledon girls' doubles crown with partner Wang Xinyu.
"I love Li Na's personality of just being herself," said the talented teen, who loved to watch Li's matches online when she's a little girl. "I'm inspired by her. I will just keep being myself, keep chasing my goal and be more determined."
As to who "the next Li" might be, it's still anyone's guess.
Maybe it's not that complicated.
"Young players need only do one thing: Try their best. Everyone has their own dreams, so don't give up," Li said.