'Tens of thousands' disconnect their own power supplies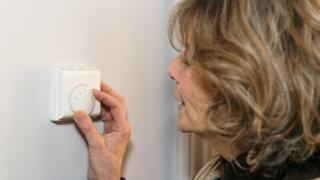 Tens of thousands of the UK's poorest householders are disconnecting their own power supplies, because they cannot afford to top up their meters.
Energy regulator Ofgem said it was so concerned that it wanted further evidence on the scale of the problem.
In the past year, 70,000 people on pre-payment meters "self-disconnected" from their electricity supply for a period of at least three hours, Ofgem said.
About 80,000 people stopped paying for their gas.
While most of those may simply have forgotten to top up their credit - or may have failed to realise they were low - Ofgem said about one in 10 of those on pre-payment meters cut themselves off.
Earlier this year, Citizens Advice estimated that as many as 140,000 householders were going without gas or electricity, because they could not afford to top up their meters.
Of those, 56% were left with cold homes, while 35% had insufficient light.
Fuel poverty
Some 4.5 million households in the UK have pre-payment meters, often because of a poor credit history.
But while suppliers used to cut people off when they could not pay their bills, now householders are - in effect - doing it for themselves.
Last year, just 17 homes were cut off by their supplier, compared with more than 8,000 a decade ago.
After criticism that those with pre-payment meters faced higher energy charges than everyone else, the regulator imposed a cap on their bills in April 2017.
The most they currently have to pay is £1,136 a year.
The Ofgem figures were released as part of its annual state of the energy market report, which also found that:
The market share of the big six suppliers fell to a new low, as consumers switched to smaller firms
54% of households were still on poor-value standard variable tariffs - compared with 57% last year
Profits among the big six suppliers fell last year for the first time since 2014
Just under 20% of people living in private rented housing live in fuel poverty, twice the overall average
Last year, household energy consumption continued its long-term decline, falling by 5.5% for gas and 3.3% for electricity.
Have you disconnected your domestic power supply? Share your stories by emailing haveyoursay@bbc.co.uk
Please include a contact number if you are willing to speak to a BBC journalist. You can also contact us in the following ways:
Or use the form below:
If you are happy to be contacted by a BBC journalist please leave a telephone number that we can contact you on. In some cases a selection of your comments will be published, displaying your name as you provide it and location, unless you state otherwise. Your contact details will never be published. When sending us pictures, video or eyewitness accounts at no time should you endanger yourself or others, take any unnecessary risks or infringe any laws. Please ensure you have read the terms and conditions.