Shooting at Parkland, Florida school - reports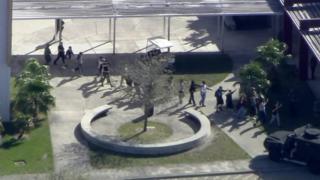 Police in Parkland, Florida, are responding to reports of an active shooter at a local high school.
The Broward Sherriff's Office said it was "working a developing incident" at Stoneman Douglas High School.
"There are reports of victims," it added, warning that the shooter was still at large and urging people to avoid the area.
A local Fox news affiliate reported seeing several people being treated for injuries outside the school.
Helicopter video showed armed police at the building's perimeter.
Coral Springs Police department, meanwhile, tweeted instructions to teachers and students to "remain barricaded inside until police reach you".
Live video footage from the scene appeared to show a small number of students being evacuated.
The FBI also said it was attending the scene and assisting local law enforcement.
US television networks reported large numbers of parents had gathered outside the police perimeter.
"The president has been made aware of the school shooting in Florida," said White House Deputy Press Secretary Lindsay Walters.
"We are monitoring the situation. Our thoughts and prayers are with those affected."
Police are working an active shooter scene, and ask that if you are in touch with your student you ask that they remain calm and barricaded until police come to their room, this is for everyone's safety. Do NOT call our 911 or non-emergency number unless it is an emergency.
End of Twitter post by @CoralSpringsPD