Elderly Spanish couple found in Oviedo park after flat eviction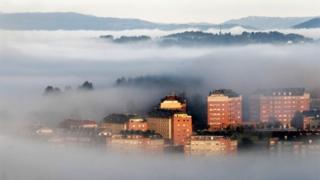 A couple in their 70s, evicted from their flat in northern Spain, were forced to sleep in a park.
They spent two nights in the park in Oviedo after they were kicked out of their flat by a court for not being able to pay their rent.
Their €300 (£268, $350) monthly pension wasn't enough to cover the €500 monthly rent.
The court said it was not aware of the vulnerability of the couple when it made its ruling.
Spanish authorities are supposed to recognise the vulnerability of older members of society when assessing such cases.
The Platform for Those Affected by Evictions (PAH), an anti-eviction campaign group, has expressed concern at the 18 September ruling.
The couple, 74 and 72, were found in an anxious psychological state, the group said.
Pilar Lobo, an activist with the local PAH branch, told the Spanish newspaper El País that the couple were several months behind on their rent, but had agreed to pay the landlord in January.
In a statement on its Facebook page, PAH said "regional authorities... have no possible excuse for their negligence in not taking into account the couple's age."
Oviedo is the capital of Asturias region and the regional authorities agreed in March that vulnerable or unemployed people should not be evicted if they fall behind with their rents.
You may also be interested in: