Prince death: No criminal charges to be filed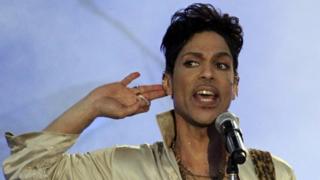 No criminal charges will be brought over the death of US musician Prince in April 2016, prosecutors say.
The singer, 57, died from an accidental overdose of the painkiller fentanyl, an opioid many times more powerful than heroin.
Prosecutors in Minnesota said counterfeit pills containing the drug were found inside his home but they were unable to determine the source.
They said they had found no evidence of intentional wrongdoing.
Prince was found unresponsive in a lift at his Paisley Park Studios, in the state of Minnesota, on 21 April 2016.
The prosecutors announced their findings on Thursday following a two-year investigation into the pop icon's death.
The attorney of Carver County, Mark Metz, said evidence showed Prince thought he was taking the prescription drug, Vicodin, and not the counterfeit pills which contained potentially deadly fentanyl.
"In all likelihood Prince had no idea he was taking a counterfeit pill that could kill him," Mr Metz told reporters.
Prince had experienced significant pain for a number of years, he said, adding that there was "no evidence that the pills that killed Prince were prescribed by a doctor".