Trump pressure scuppers $140bn chipmaker takeover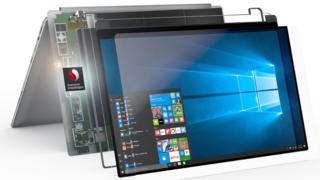 Broadcom has abandoned its $140bn (£100bn) bid for Qualcomm, two days after President Trump blocked it.
The White House said there was "credible evidence" that the bid by Singapore-based chip maker Broadcom may impair the national security of the United States".
The deal would have been the world's biggest technology takeover.
Combining the two firms would create the world's third-largest microchip maker, after Intel and Samsung.
Qualcomm had already rejected the offer in November, saying it "dramatically undervalued" the company.
However, Broadcom continued with a hostile takeover bid, prompting US regulators to place the deal under review.
"Although we are disappointed with this outcome, Broadcom will comply with the order," the chipmaker said.
It also said that it was still in the process of moving its base back to the US, which would make it easier to make acquisitions there without falling foul of American rules on foreign investment.
China fears
Blocking the deal on Monday, Mr Trump had argued the takeover would erode the US's lead in mobile technology and give China the upper hand.
The chipmaking sector is in a race to develop chips for the latest 5G wireless technology and Qualcomm is considered to be a leader in this field, followed by Broadcom and China's telecoms giant Huawei.
However, Broadcom has a reputation for selling assets - and analysts feared a merger would have allowed Huawei the chance to take the top spot in years to come.
Founded in the US, Broadcom makes a range of computer and telecommunications equipment. It was acquired by Singaporean semiconductor company Avago Technologies for $37bn in 2015.
San Diego-based Qualcomm evolved from a US military aerospace contractor to become a dominant player in wireless radio technology. Its chips are used in half of all smartphones.