Giant pandas director quits Edinburgh Zoo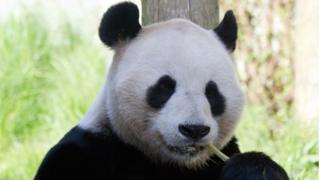 The man behind an agreement to bring pandas to Scotland has quit Edinburgh Zoo.
The zoo said director of giant pandas, Iain Valentine, left his post to "pursue new interests".
News of his departure emerged after it was revealed the zoo's panda breeding programme has been suspended following years of failed attempts.
Tian Tian and Yang Guang will not attempt to breed this year, the BBC Scotland news website heard on Monday.
Tian Tian has failed to produce a cub six times since moving to the Scottish zoo in 2011.
Zoo officials said they wanted to make "some enhancements to our giant panda enclosure" before attempting future breeding.
A Royal Zoological Society of Scotland (RZSS) spokeswoman said: "RZSS can confirm that Iain Valentine has moved on from the society to pursue new interests.
"Iain played a key role in the society's contribution to the worldwide panda conservation programme over many years, including research and science.
"The pause we have taken in breeding attempts is supported by our giant panda team and other key specialists."