Apple fixes iPhone letter 'i' bug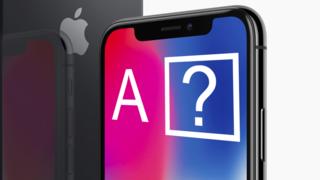 Apple has addressed a glitch that caused some iPhones to unexpectedly start auto-correcting the letter "i" to a capital "A" and a question mark.
The issue emerged when people updated their phones to version 11.1 of the iOS operating system.
In a tweet, Apple said people could "fix it by installing the latest software update". The update also addresses an issue with Siri.
The company has not explained what caused the problem.
The problem was highlighted last week when people trying to tweet messages such as "I got a new iPhone" found their posts were appearing as "A[?] got a new iPhone".
At the time, Apple outlined a temporary fix for the problem on its website.
The fix involved editing the keyboard settings in iOS so that the right character, either an upper or lower case "i", was used.
Anyone know how to fix an iPhone that sends symbols instead of the letter "i" when typing? It's not a keyboard shortcut, I️ checked. See images below. #AskTwitter pic.twitter.com/UkTKG50P8H
End of Twitter post by @AhBijBijBij
An online discussion forum on Apple's website includes comments from people affected by the bug.
"This is super-annoying," wrote one.