Goldman Sachs reveals gender pay gap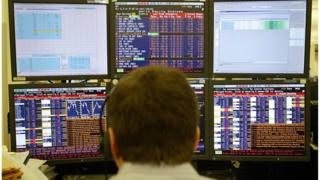 Goldman Sachs has reported a median UK gender pay gap at its international business of 36.4% for hourly pay and a median bonus gap of 67.7%.
Its mean average pay gap for hourly pay was 55.5%, and 72.2% for bonuses.
The bank said this reflected an imbalance between men and women in senior roles, adding it was "committed to promoting diversity and inclusion".
All companies with more than 250 staff must report their gender pay gap to the government by 4 April.
The median figure refers to the midpoint of all workers' salaries from lowest to highest paid.
The mean describes the total wage bill divided by the number of employees, which means it can be skewed by a small number of very highly paid workers.
'Significant progress' needed
In a memo, chief executive Lloyd Blankfein and president David Solomon said: "The advancement of women in the workplace - and more broadly the state of diversity at our firm - is top of mind for all of us.
"While we have made progress in recent years on women's representation and ethnic and racial diversity, there is still significant progress to be made."
In its pay gap report, Goldman Sachs said: "The fundamental challenge we should all be focused on is increasing the representation of women at senior levels.
"This is where the real imbalance lies, and requires attention at the earliest stages of recruitment to attract more women to financial services roles."