Facebook critic Max Schrems faces partial setback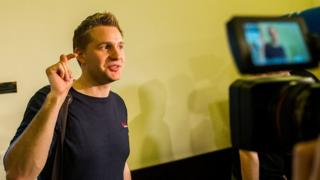 An Austrian privacy campaigner seeking to stop Facebook from transferring personal data out of the EU has been dealt a partial setback by one of Europe's top law officers.
Max Schrems has been told that he is unlikely to be able to bring a "class action" style case against Facebook's Irish unit in one of Austria's courts.
But he has instead been advised that he could sue the company on his own behalf.
Mr Schrems believes this could still let him set a precedent.
Although class actions are common in the US, the European equivalent - which are referred to as collective actions - are rarely accepted by local courts.
Mr Schrems had been seeking to claim 500 euros ($586; £448) in damages per person for about 25,000 people.
They represent volunteers who had signed up to be part of his effort to sue Facebook over alleged privacy rules violations - one of several tactics he has taken in his battle against the US company.
The activist said that pursuing a personal case would still "enable us to debate the illegal practices of Facebook in an open court for the first time".
But he voiced frustration at the fact that others might have to repeat the exercise.
"The consequence would be that thousands of courts in the whole European Union would have to deal with an identical, but local lawsuit against Facebook," he said.
"Bringing a case in Ireland is equally impossible, because the legal costs for a data protection lawsuit of 500 euros could easily lead to legal costs of 10 to 20 million euros under the Irish system.
"In this case we would be in a situation where citizens have rights on paper - but no realistic option to ever defend their rights in practice."
For its part, Facebook has limited itself to saying: "Today's opinion supports the decisions of two courts that Mr Schrems's claims cannot proceed as 'class action' on behalf of other consumers in Austrian courts."
The advice given to Mr Schrems came from the European Court of Justice's Advocate General, Michal Bobek.
Although the court typically follows the officer's opinions, they are non-binding.
Mr Schrems has urged the ECJ to reject the guidance in this case.
"I hope that the five judges that will ultimately decide over this case will take a closer look," he said.