Winter Olympics: Curling gets an unlikely fan in Mr T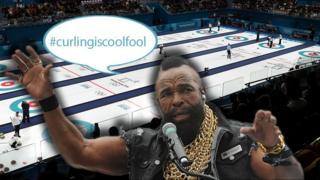 Every four years the UK goes crazy for curling at the Winter Olympics - but this year it has a new fan.
Mr T has been entertaining his followers on Twitter with his observations on the sport.
I am really Pumped watching the Winter Olympics. I am watching events I never thought I would watch before, like curling. You heard me, curling Fool!
End of Twitter post by @MrT
The ex-wrestler is perhaps best known for his time on the A-Team in the 1980s, but he's winning people over with his passion for the curling stars in Pyeongchang.
Curling is kind of different, but it's Exciting. It's not as easy as it looks. It takes some skills that's for sure. I like it!
End of Twitter post 2 by @MrT
Mr T is American and has been very vocal about the pride he feels for his national team, but it seems that he's happy to watch whoever is competing when it comes to curling.
Using #curlingiscoolfool he's rallied the Twitter troops and is repping curling in a big way.
Canada defeated Norway in the semi-finals, and Won the Gold medal in the finals vs Switzerland in mixed doubles curling.. I really like curling and I'm learning a lot. #Hurryhard #curlingiscoolfool
End of Twitter post 3 by @MrT
Rob is on board, for sure.
#curlingiscoolfool might be the best thing to have come out of the 2018 Winter Olympics!
End of Twitter post by @jrdfalconer
He even seems like Mr T might have a go at the sport himself.
I like curling, it's less wear and tear on the body. I wrestled, boxed, and studied martial arts. I have nothing else to prove. Therefore I choose curling. #curlingiscoolfool
End of Twitter post 4 by @MrT
Like I said before, Curling is not as easy as it looks. I must be honest with you.. That little broom reminds me of my Swiffer Sweeper! I'm just saying...
End of Twitter post 5 by @MrT
Anyways, I see curling as a finesse sport, more straight and controlled strength. Not brute strength, like when I was a bouncer, oh no!
End of Twitter post 6 by @MrT
Get training Mr T - we'll root for you at 2022 in Beijing!
Let me tell you something, you may not win, but you never lose if you try. Nothing beats a failure, but a try! I Pity The Fool who won't even Try!
End of Twitter post 7 by @MrT
You said it.
Listen to Newsbeat live at 12:45 and 17:45 every weekday on BBC Radio 1 and 1Xtra - if you miss us you can listen back here