IOC bans Russia from 2018 Winter Olympics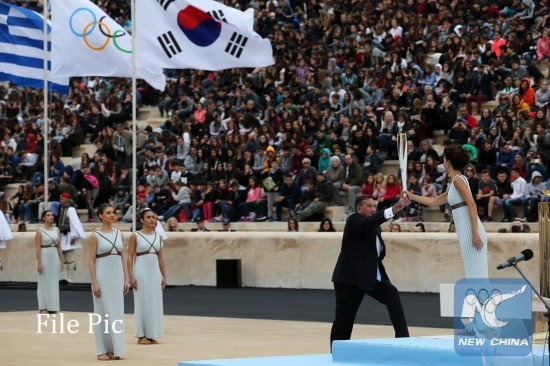 Greek actress Katerina Lehou (1st R) in the role of an Ancient Greek High Priestess passes the Sacred Olympic Flame to Hellenic Olympic Committee President Spyros Capralos at Panathenaic stadium in Athens on Oct. 31, 2017,during the handover ceremony of the Olympic flame for the 2018 Winter Olympics in Pyeongchang, South Korea.(Xinhua/Marios Lolos)
GENEVA, Dec. 5 (Xinhua) -- The International Olympic Committee said on Tuesday that Russia is banned from the 2018 Winter Olympics set for next February in PyeongChang, South Korea, over doping concerns.
The IOC decided to suspend the Russian Olympic Committee (ROC) with immediate effect, but Russian athletes would still be able to compete at the PyeongChang Games in uniforms bearing the name "Olympic Athlete from Russia" under the Olympic Flag, and the Olympic Anthem will be played in any ceremony.
Samuel Schmid, former Swiss president entitled to lead the investigation commission, said an over-17-month IOC investigation has "confirmed the systemic manipulation of the anti-doping rules and system in Russia during the Olympic Winter Games Sochi 2014, as well as the various levels of administrative, legal and contractual responsibility".
"This was an unprecedented attack on the integrity of the Olympic Games and sport," said IOC President Thomas Bach. "As an athlete myself, I'm feeling very sorry for all the clean athletes."
The IOC "has issued proportional sanctions for this systemic manipulation while protecting the clean athletes. This should draw a line under this damaging episode and serve as a catalyst for a more effective anti-doping system led by the World Anti-Doping Agency (WADA)," he added.
But Russia has denied state-sponsored doping scheme alleged by WADA report.
The Russian Investigative Committee said in a statement earlier in November that "The investigation had obtained data that WADA lacked any evidence of Russia's guilt in the mass use of doping by athletes."
Vitaly Mutko, Russian then Minister of Sport during 2014 Sochi Olympics, and his then Deputy Minister Yuri Nagornykh were both excluded from any participation in all future Olympic Games, the IOC announced.
The IOC also ruled that no official from the Russian Ministry of Sport will be accredited for the PyeongChang Games.
Despite the ban against the Russian Olympic Committee, the IOC clarified that Russian athletes are still invited to Pyeongchang only with "strict conditions." A detailed invitation list will be determined at the IOC's absolute discretion, by a panel that includes members appointed by WADA, the Doping-Free Sport Unit and the IOC.
The sanctions may be partially or fully lifted from the commencement of the closing ceremony of the PyeongChang Winter Games, provided these IOC decisions are fully respected and implemented by the ROC and by the invited athletes and officials, it concluded.
Last year, an independent WADA commission headed by Professor Richard McLaren released a report accusing Russia of state-sponsored doping programs to illegally boost Russian athletes' performances.
The report was largely based on the testimony of the former head of a Moscow anti-doping lab Grigory Rodchenkov, who fled to the United States at the end of 2015, becoming an informant for WADA.
The scandal prevented a large number of Russian athletes and officials from participating in the 2016 Rio Olympics and Paralympics.