Debt worries emerge from break-ups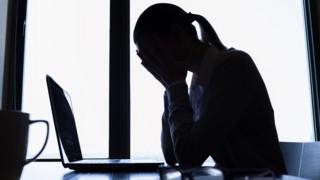 Financial shocks such as divorce and redundancy are leading people into debt crises, a charity has said.
The under-25s are prone to problems caused by poor budgeting, a review by debt helpline StepChange found.
But for most age groups, a lack of money resulting from an income shock - rather than poor budgeting - has led to many slipping dangerously into the red.
A large proportion of single parents and tenants have sought help from the charity, it said.
"It can be too easy to look at statistics and fail to see the anxious human face of problem debt," said Phil Andrew, StepChange's chief executive.
"Our clients show that the debt problem is far from solved. With the prospect of higher interest rates ahead, it would be a mistake to take too much reassurance from the gradual improvement in the wider economy."
The figures, published in a review of the charity's work in 2017, follow separate figures that revealed a rise in personal insolvencies for the second consecutive year.
In total, 99,196 individuals were declared insolvent in England and Wales, up 9.4% from 90,657 in 2016.
In Scotland - where the system works differently - there were 2,691 individual insolvencies in the fourth quarter of 2017, a rise of 2.1% on the same quarter in 2016.
In Northern Ireland, insolvencies rose by 3.7% over the same period.
Priority debts
The StepChange review records which people sought help from the charity during the year and the extent of their debts.
The charity found that 21% of those asking for help for the first time were single parents with children, despite this group making up only 6% of UK households.
Tenants were also more likely than most to seek guidance. Four in five of those contacting the charity were tenants, although only a third of UK households rent their home.
Two in five had arrears on the debts that should be considered as a priority, primarily council tax.
Separate figures published on Tuesday show that first-time buyers in the UK typically spend 17.3% of their gross monthly household income on mortgage repayments.
The data, from trade body UK Finance, showed that the typical loan to first-time buyers was £139,500.