Theranos founder Elizabeth Holmes charged with £700m fraud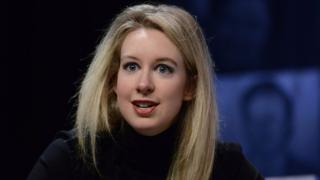 The founder of a start-up that promised to revolutionise the blood testing industry has agreed to settle charges that she raised more than $700m (£500m) fraudulently.
The Securities and Exchange Commission said Elizabeth Holmes and Theranos deceived investors about the firm's technology.
Ms Holmes will lose control of the firm and be fined $500,000.
An SEC official called the fallout an "important lesson for Silicon Valley".
"Innovators who seek to revolutionise and disrupt an industry must tell investors the truth about what their technology can do today - not just what they hope it might do someday," said Jina Choi, director of the SEC's San Francisco regional office.
Theranos was founded in 2003 and sought to develop an innovative blood testing device that used a single drop of blood.
However, its fortunes waned in 2015 after reports in the Wall Street Journal suggested the devices were flawed and inaccurate.
The charges were brought against Theranos and its former president Ramesh "Sunny" Balwani as well as Ms Holmes.
The SEC plans to bring a case against Mr Balwani.
The regulator alleged that Theranos, Ms Holmes and Mr Balwani made a series of false and misleading statements in investor presentations, product demonstrations and interviews.
Their actions deceived investors into believing that its key product - a portable blood analyser - could conduct comprehensive blood tests from a drop of blood.
The SEC said: "In truth ... Theranos' proprietary analyser could complete only a small number of tests, and the company conducted the vast majority of patient tests on modified and industry-standard commercial analysers manufactured by others."