Sacred Mount Daisen in Japan's tranquil Tottori prefecture offers peace, quiet and amazing vistas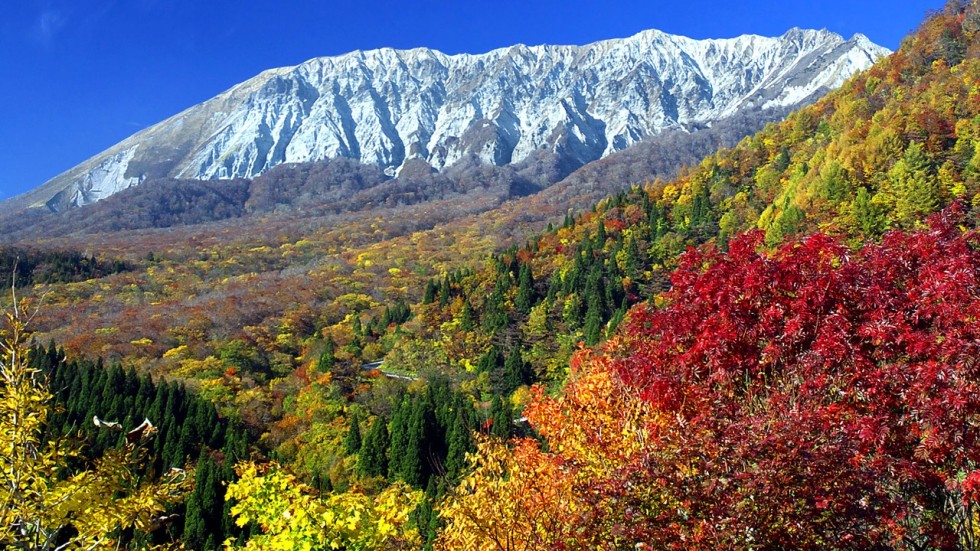 There were moments when it seemed we had the entire mountain to ourselves. The crisp, clean air on Mount Daisen, in Tottori, Japan's least populated prefecture, was heady and the 360 degrees of serene views made it easy to leave our cares and clutter far below.
I travelled to Japan from my Singapore home to meet my son Damien, who flew in from university in Canada. A brief sojourn in Mount Daisen was the perfect retreat: it is off the beaten track, and offers peace and rejuvenation.
Climbing on this mountain, worshipped as a god, was banned until 1889. As a result, Mt Daisen's extensive beech forests are still pristine and its old, almost bare temples, authentic. The shrines located towards the top are secluded, making the trek up well worth the effort.
Part of a designated National Park in Tottori, despite its relatively diminutive stature, Mt Daisen is ranked among the best 100 mountains in Japan. Fondly called "Hoki-Fuji " or "Mt Fuji in Tottori" by locals, it resembles the cone of Mt Fuji, when viewed from the west. The north, south and east sides in contrast, are rugged with steep cliffs. According to a distinguished local ranking, it is Japan's third most magnificent summit after Mt Fuji and Mt Yari (Yarigatake).
Baked goods, Wi-fi, trendy coffee: what Everest base camp is like now
There are only a few hotels on Mt Daisen and some small family-run "pension hotels". We opted to stay at one the largest, the Daisen Royal Hotel as we could walk right out of this luxurious, yet affordable hotel and immediately begin a trek. There are walking trails with gentle gradients that most people can cope with.
For the more athletic there are longer, steeper paths, which take about two hours, and lead to more panoramic views and snow-topped summit at closer range. I took solitary early morning walks near the hotel and soaked my feet in icy mountain streams.
The Hawaii of South Korea? The good, bad, ugly sides to Jeju Island
The trails connect Daisen's wooded slopes. The top of the mountain is a ridge with several jagged peaks. The highest, Kengamine Peak (1,729m) has been closed since an earthquake eroded the trail in 2000. Hikers can now climb as far as the nearby Misen Peak (1,709m).
In winter, Mount Daisen boasts the largest ski slope in West Japan. The signature, virgin beech forests which carpet much of the mountain, are a natural catchment for rainwater and melt water.
Mountain water finds its way to the Sea of Japan, and is believed to contribute to Tottori's bountiful sea harvest that includes seaweed, squid, crab and fresh fish. The mountain is just a half-hour drive from the fishing jetties. Damien, a fan of Japanese cuisine, relished it all – in the traditional pubs on Mt Daisen with panoramic mountain views, and the restaurants in towns below.
There is a free shuttle bus from Mt Daisen to Yonago central railway station, from where we could visit the restaurants and shops. Here, we ate lunch at a popular spot overlooking the sea and fish market. There were flavourful broths and delicious giant fresh oysters.
Visit Kep in Cambodia, the laid-back beach retreat making a comeback
The mountain hotel's traditional Japanese breakfast was also something to look forward to each morning – complete with Japanese fish, rice, and sides such as Japanese pickles and seawater smelt.
There was also a sauna and hot springs in the basement to relax even the most weary souls. Spring water is pumped up from 1,000m underground to the hotel, and bathing in it is believed to ease ailments such as rheumatism.
There is a lot more we could have done, having travelled deep into the historical heart of Japan. Just two hours away, in the neighbouring prefecture of Shimane, is Matsue Castle, one of 12 remaining feudal castles in Japan and the Izumo Taisha grand shrine, considered the "capital of the gods".
Instead, however, we chose to stay close to the sacred mountain and take in its surroundings.
Getting there:
Hong Kong Airlines offer direct flights to Yonago from Hong Kong. There are also regular flights to Yonago on ANA from Tokyo.
Visitors are obliged to register at the Daisen information desk (houki-town.jp/p/15/2/1/16/) before and after the trek. English version maps are available here. Signposts along the way indicate distances and the time required to cover the remaining path. E-guides are available in Japanese, English and Korean (http://en.go-to-japan.jp)
Staying there:
There are few hotels and several family-run establishments which offer mostly twin bed accommodation. The writer stayed at the Daisen Royal Hotel. Average price is about 12,000 yen (US$110) per person. (daiwaresort.jp/daisen/index.html/)
You are signed up. We think you'd also like