More £1 homes on sale to 'regenerate' Stoke-on-Trent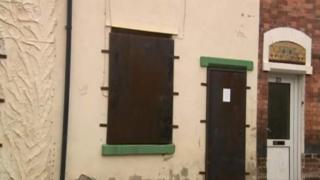 Aged in their 50s without a mortgage, Carol and Tommy McMillan had resigned themselves to a lifetime in rented accommodation.
But a scheme allowing them to buy a house for £1 has transformed their lives "dramatically", they said.
The couple were successful applicants in a Stoke-on-Trent scheme to revamp run-down properties.
Now a second phase of the project, which was first launched in 2013, has been announced by the city council.
The authority said it was spending £1.5m to buy and renovate up to 25 homes in Hanley before offering them to new owners.
It hopes to attract people with local connections and will prioritise applicants with salaries "that would ordinarily put home ownership beyond their reach".
Randy Conteh, cabinet member for housing, communities and a safer city, added the project would help to "regenerate run-down parts of the city".
The Reviving Communities scheme, which is taking applicants until 12 January 2018, involves empty homes in the Portland Street area.
The new owners have to agree to repay the revamp costs through a 10-year loan of £30,000.
Mrs McMillan, 54, and her 58-year-old husband, were successful applicants in the first scheme in the Cobridge area.
While they had both had mortgages in previous relationships, in recent years the couple, who have been together for 18 years, thought they were too old to get a mortgage.
"There's money left at the end of the month," said Mrs McMillan.
"We were renting a property at £450 a month. The payback on the £30,000 grant on this house is £298 so straight away we were £150 better off.
"The walls, front and back and upstairs, were all insulated. We moved into this in the November so we had the winter months coming up.
"The first quarterly bill for our gas was £25 - we couldn't believe it. I had to ring them to check it was right."
She added the scheme had helped transform the area.
"It's up and coming. It is slowly turning around and it's getting for the better."