Damaged reputations an 'unfortunate by-product' of abuse inquiries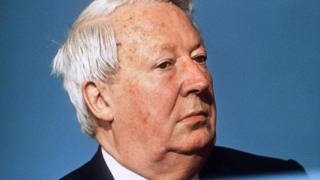 Reputational damage to dead people is an "unfortunate by-product" of police inquiries into historical sex abuse allegations.
That's the view of David Tucker, from the College Of Policing, but he said it happened only in certain cases in which the names of dead suspects were made public.
Mr Tucker told Law in Action, on BBC Radio 4, that the college was drawing up guidelines for forces in England and Wales to help them decide whether to identify suspects in such cases.
He also revealed that unpublished guidance for police on investigating the deceased was under review and was likely to be made public in the future
His comments come amid the controversy surrounding Wiltshire Police's two-year investigation into claims that Sir Edward Heath had sexually abused boys.
'Impeccable reputation'
Last month, the force declared that the late Conservative prime minister would have been questioned about allegations from seven people had he been alive.
Sir Richard Henriques, a retired High Court judge, told the programme that the police's conclusion had left a "slur upon an impeccable reputation".
Sir Richard said: "Nothing whatsoever has been achieved by that investigation - save and except that the reputation of a former prime minister has plainly been damaged by the public being informed that certain police officers, who were party to the investigation, suspected that Sir Edward had committed serious crime."
The former judge had previously completed a highly-critical review of Scotland Yard's inquiry into an alleged paedophile ring at Westminster, known as Operation Midland.
Wiltshire Police has consistently defended the investigation into Sir Edward, saying it was necessary and proportionate and in line with guidelines drawn up by the College of Policing, which sets standards and training across the 43 forces in England and Wales.
David Tucker, the college lead on crime and criminal justice, said in the majority of cases in which dead suspects are investigated the outcome will not be made public because the name of the suspect is not disclosed.
But he said it was "always a possibility" that someone's reputation would be besmirched when an identity was revealed.
"It's an unfortunate by-product and won't happen in the majority of cases because in actual fact that detail won't be in the public domain," he said.
'Lessons to learn'
Mr Tucker said a "regular" review was also under way of the overall guidance for police on how to approach such investigations, of which there are thought to be handful every month.
The current guidance advises police to investigate people who have died where the allegations continue to have an "impact" and there are "lessons to be learned", said Mr Tucker, who served as a policeman for 30 years.
He said the need to gather potential evidence of conspiracy, collaboration or cover-up against people who were still alive was one of the main reasons for such investigations, but police were also told to consider the seriousness of the allegations, the continuing effect on victims and the prominence of the suspect.
"It's not just a conceptual exercise," he said.