Paddy Jackson and Stuart Olding: Alleged victim 'very upset' in taxi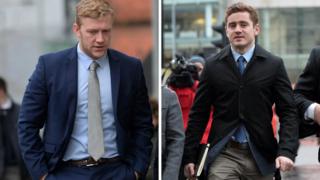 The taxi driver who drove an alleged rape victim home from the house of Ulster rugby player Paddy Jackson has told a court that she seemed "very upset" throughout the journey.
Stephen Fisher, who was working for Fonacab at the time, said she was "sobbing into herself".
He added: "The young woman definitely seemed very upset.
"She was crying/sobbing throughout the journey."
He also said: "She didn't really talk very much at all bar telling me where she needed to go to."
Paddy Jackson and fellow Ulster and Ireland rugby player Stuart Olding deny raping the same woman in a house in south Belfast in June 2016.
One of their friends, Rory Harrison, arranged a taxi home for himself and the young woman. At her house, he walked her to the front door.
The driver said at one point during the journey, he heard Mr Harrison speaking on the phone to someone else.
Mr Fisher told the court he heard Mr Harrison say: "She's with me now. She's not good. I'll call in the morning."
The driver said that during the journey Mr Harrison comforted the woman, who was 19 at the time.
'Knew straight away'
The taxi driver told the court that after leaving off the woman, he asked Mr Harrison "did you have a rough night?" and one of things he said in his brief reply was "you have no idea".
Under cross-examination, it was pointed out to Mr Fisher that he had not used that phrase in his police statement, but the taxi driver maintained that it was what he had heard.
Asked in detail about how emotional the woman had been, he said she had been upset but was not crying out loud.
The taxi driver said that when the police contacted him a few days later "I knew straight away what it was in relation to".
Mr Harrison, 25, of Manse Road, Belfast is charged with perverting the course of justice and withholding information. He denies the charges.
Paddy Jackson, 26, from Belfast's Oakleigh Park, is charged with one count of rape and one count of sexual assault. He denies the charges.
Stuart Olding, 24, from Ardenlee Street, Belfast, is also charged with rape. He too denies the charge.
Another man has also been charged in connection with the case.
Blane McIlroy, 26, of Royal Lodge Road, Belfast, is charged with one count of exposure. He denies the charge.
The 12-person jury has been told by Judge Patricia Smyth to wait until they hear all of the evidence in the case before coming to any final conclusions.