Acid attack: Mark van Dongen's ex-partner cleared of murder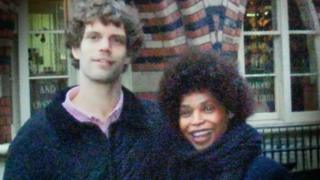 A woman has been cleared of murdering her former partner in an acid attack which led him to end his life.
Berlinah Wallace, 48, hurled the corrosive fluid at Dutch engineer Mark van Dongen in Bristol in 2015.
Fifteen months later he ended his life by euthanasia in a Belgian hospital. He was paralysed from the neck down and had lost a leg, ear and eye.
At Bristol Crown Court, Wallace was found guilty of throwing a corrosive substance with intent.
The fashion student, originally from South Africa, was cleared by the jury of both murder and manslaughter.
During the three-week trial she told the jury Mr van Dongen had put the acid in a glass for her to drink.
The pair had met five years before on a dating website for people with HIV, as both had the condition.
Mr van Dongen had returned to her flat in Ladysmith Road, Westbury Park, on the night of 22 September 2015 to reiterate that their turbulent relationship was over but decided to stay the night.
The trial heard Wallace threw a glass of acid over him as he lay in his boxer shorts on their bed, and shouted: "If I can't have you no-one will."
Screaming in agony, he staggered out on to the street where he was found by alarmed neighbours who dialled 999.
Harrowing recordings of his suffering as they attempted to help him were played to the court during the trial.
Meanwhile instead of calling an ambulance, Wallace sat on the sofa in her flat and called another ex-boyfriend.
She will be sentenced on Wednesday.