Cleaner banned and fined £25 for being ill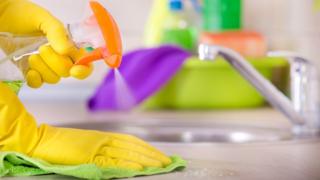 When Polly Mackenzie heard her cleaner was ill and unable to work her normal day, she was hoping to reschedule through the Handy site that supplied her.
But that was not how the system worked. When her cleaner was unable to attend on her regular day, Handy offered to send a replacement.
But they banned the cleaner from working for her again.
I use an app-based cleaning service. This morning my cleaner was ill and couldn't make it. The company are sending a replacement tomorrow (good) and banning my ill cleaner from working for me again as punishment (horrific).
End of Twitter post by @pollymackenzie
The story took a further turn the next day: the cleaner was reinstated - but was also fined £25.
Yesterday my cleaner was ill and @Handy banned her from taking further jobs with me. I got her reinstated. But I now discover she was fined £25 which they refuse to refund. Disgusted. https://t.co/nSwFbKYo9t
End of Twitter post 2 by @pollymackenzie
Ms Mackenzie herself, from south London, was sent what she described to the BBC as "a grovelling email - as if they'd killed my firstborn", then found her account had been credited with £5 to compensate for the inconvenience.
She said that meant Handy had "profited £20 from her illness, about twice as much as they'd make if she turned up".
The cleaner has since been made available to Ms Mackenzie once more, but the incident has ignited a strident debate on social media about the use of app-based services and the gig economy.
In the gig economy, instead of a regular wage, workers get paid for each job, such as a food delivery or a car journey. One of the best-known examples is driving for Uber.
Proponents of the gig economy claim that people can benefit from flexible hours, with control over how much time they can work as they juggle other commitments. Those against say its simply another form of employment - without rights or in-work benefits.
Work but no pay
It is not unheard of for gig economy workers to be charged for days they do not work.
Earlier this year, the Guardian reported that Parcelforce couriers who make deliveries for Marks & Spencer, John Lewis and Hamleys could be charged up to £250 a day if they were off sick and could not find someone to cover their shift.
The debate also came to the boil last week when a tribunal ruled that Uber should give drivers the same rights as workers, rather than treat them as self-employed.
In an inversion of this, Ms Mackenzie says she is effectively an employer who is not allowed the control that goes with that.
One of the issues that has come to light is that Handy will not allow Ms Mackenzie to see the terms and conditions under which they engage cleaners' services.
That issue is no longer material in this case, however: the cleaner at the centre of the wrangle is no longer willing to work for Ms Mackenzie.
New York-based Handy has been contacted by the BBC for a response.