Sarah Jessica Parker defended by co-star over Cattrall feud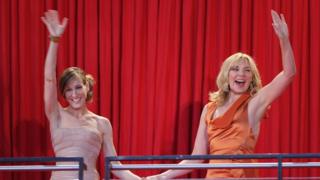 Molly Shannon has defended her co-star Sarah Jessica Parker after she was called "cruel" by Kim Cattrall.
The Divorce star, who plays Parker's friend on the show, said she was "supportive and so wonderful".
It comes after Cattrall publically criticised Sex and the City castmate Parker for reaching out after her brother Chris' death.
He was found dead last Sunday after going missing from his home in Alberta, Canada.
"I didn't read about that," Shannon said regarding Cattrall's Instagram post, "but I know, for me, Sarah is just so supportive and so wonderful and we just get along so well.
"It doesn't really feel like work because we have so much in common, and she loves funny women and is just so genuinely supportive and kind, and, like, a girls' girl."
In the interview with Entertainment Tonight from New York Fashion Week, Shannon called SJP "Hollywood royalty".
It comes after Cattrall publicly criticised Parker on social media, after she offered condolences following the death of Chris Cattrall.
Parker posted on social media, "Dearest Kim, my love and condolences to you and yours and Godspeed to your beloved brother."
Cattrall rejected the message, writing that Parker was "exploiting our tragedy in order to restore your 'nice girl' persona."
My Mom asked me today "When will that @sarahjessicaparker, that hypocrite, leave you alone?" Your continuous reaching out is a painful reminder of how cruel you really were then and now. Let me make this VERY clear. (If I haven't already) You are not my family. You are not my friend. So I'm writing to tell you one last time to stop exploiting our tragedy in order to restore your 'nice girl' persona. Copy and paste link https://nypost.com/2017/10/07/inside-the-mean-girls-culture-that-destroyed-sex-and-the-city/
A post shared by Kim Cattrall (@kimcattrall) on
End of Instagram post by kimcattrall
The actress also linked underneath to a New York Post article from 2017 about the "Mean Girls culture", which was responsible for ending the Sex and City franchise.
It didn't contain any interviews with stars of the show, but claims Cattrall had been negatively painted by Parker as a diva to fans waiting for a third Sex and the City film to be made.
It also alleged that Parker and the other stars of the show, Cynthia Nixon and Kristin Davis, were jealous of Cattrall, routinely ignoring her during filming.
However, fellow Sex and the City co-star, Cynthia Nixon, got a completely different message when she reached out to Cattrall, following the death of her brother.
"Cynthia, hearing your voice meant so much to me. Thank you for reaching out," Cattrall posted on her Instagram - suggesting Nixon had callled the 61-year-old rather than posting on social media.
'Never friends'
News of a feud between Cattrall and Parker emerged late in 2017, when Cattrall said in an interview with Piers Morgan that she had "never been friends" with any of her castmates when filming Sex and the City.
The interview came after it was announced there would be no Sex and the City 3 film, with fingers being pointed at Cattrall for pulling the plug.
At that time, Parker responded to Cattrall's comments by saying she was "just heartbroken", adding, "that's not the way I recall our experience".
On Monday, Morgan came to the defence of Cattrall, saying he was "100% behind" her decision to call out Parker on Instagram.
100% behind @KimCattrall on this. Nothing worse than someone who's treated you like dirt suddenly pretending to care about you to make themselves look good in the public's eyes. pic.twitter.com/bIPSQmp8yJ
End of Twitter post by @piersmorgan
Others to have weighed in on social media are actor and comedian Greg Poehler:
Find someone who loves you as much as Kim Cattrall hates Sarah Jessica Parker. pic.twitter.com/8MeTyTdksm
End of Twitter post by @GregPoehler
Author and scriptwriter Jon Ronson said he wanted to "fix the rift" between the two Sex and the City stars.
I'm not going to rest until I fix the rift between Kim Cattrall and Sarah Jessica Parker.
End of Twitter post by @jonronson
Follow us on Facebook, on Twitter @BBCNewsEnts, or on Instagram at bbcnewsents. If you have a story suggestion email entertainment.news@bbc.co.uk.