Head of prisons and probation asked to quit amid crisis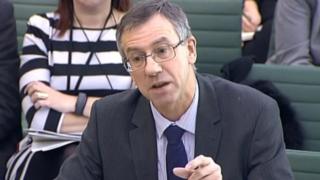 The head of the prison and probation service has been asked to step down after nine years amid an ongoing crisis in English and Welsh jails.
BBC home affairs correspondent Danny Shaw said Michael Spurr was prompted to resign because a "fresh direction" and new leadership structure was needed.
Mr Spurr will leave his post in March 2019, the Ministry of Justice said.
The news comes after Prisons Minister Rory Stewart admitted problems with drugs and violence in numerous jails.
Last week, thousands of prison officers walked out for six hours in a protest at "unprecedented violence" in British prisons.
Mr Stewart said that he would resign if the situation had not improved within a year.
In a statement announcing the departure, Justice Secretary David Gauke said he was "extremely grateful" to Mr Spurr "for his leadership of HMPPS".
He added the formal process to appoint Mr Spurr's successor will start in October.
In June, MPs described the system for supervising criminals in England and Wales as a "mess".
The Commons justice committee said HMPPS reforms had failed to meet their aims, adding it was "unconvinced" reforms could ever deliver an effective probation service.
One month later, it was announced that private companies that run probation services would have their government contracts ended in 2020, two years earlier than planned.
What is going on in British prisons?
Many prisons in England and Wales have seen surging levels of violence, drug use and self-harm in recent years.
Peter Clarke, the chief inspector of prisons, has demanded government action at four jails in less than a year, including three state-run establishments.
Last week he triggered an "urgent notification" for HMP Bedford after an inspection found inmates had effectively taken over the violent, overcrowded and vermin-infested prison.
In his annual report for 2017/18, the chief inspector highlighted how thousands of inmates are living in "squalid" and overcrowded cells, locked up for nearly 24 hours a day.
Richard Heaton, permanent secretary at the MoJ said on Thursday it was time to "look ahead".
Mr Heaton said the next chief executive would need to develop "a strategy for the next decade".
Peter Dawson, director of the Prison Reform Trust, said Mr Spurr would be "an extraordinarily hard act to follow".
Mr Dawson added: "He is an exceptionally principled and knowledgeable leader who has selflessly served an endless succession of short term ministers."