TV pundit Lawrence Kudlow 'to be Trump economic adviser'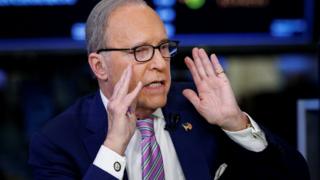 US President Donald Trump is to pick television commentator Lawrence Kudlow to be his top economic adviser, US media report.
Mr Kudlow will reportedly lead the National Economic Council after Gary Cohn quit last week.
Mr Cohn resigned after disagreeing with Mr Trump about his plan for tariffs on metal imports.
Mr Kudlow, a former Bear Stearns investment banker, is currently a pundit on business news channel CNBC.
He was an early supporter of US President Donald Trump, and is familiar to the public as a reliable conservative voice.