Goalscoring Shenyang Dongjin chairman Zhuang Yi becomes oldest scorer in China just six weeks short of his 45th birthday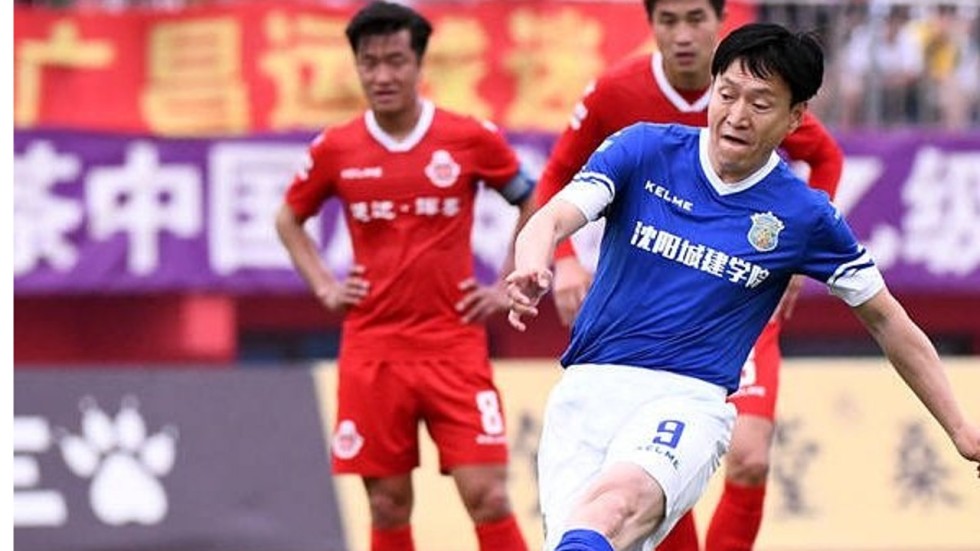 At 44 years and 327 days, Zhuang Yi has become the oldest scorer in Chinese professional football after he scored a penalty for Shenyang Dongjin to put them 4-0 in front against Yanbian Beigou.
Former China international Zhuang, who played two games for the China national team, is also the chairman of the Shenyang side.
The striker only returned to playing on May 12 when he faced Baotou Nanjiao on May 12, 18 years after retiring from professional soccer.
Last month he returned to the grasslands after a hiatus of 18 years. But the time for him does not pass and today at 44 years and 327 days, CEO and forward Zhuang Yi of Shenyang Urban went to this penalty and became the oldest player to score in the history of Chinese Football. pic.twitter.com/8DoXZpjVrG
— Terceira Div Chinesa (@Chinaleaguetwo) 3 June 2018
In the meantime he was running a football school in the city, which was where current China international and Chinese Super League side Hebei China Fortune's defender Ren Hang first played the game, and succeeded as a businessman while also becoming chairman of Shenyang Dongjin.
Nothing is forever: Guangzhou Evergrande may need a new motto
On his return, a 7-1 win for his table-topping side, Zhuang became the oldest professional player in China before setting another record on Sunday.
Local media reported that Zhuang wore the same pair of boots on his return as when he retired and the available statistics suggest it is at least 20 years since he last scored.
At age 44, striker Zhuang Yi returned to the grassroots in the win of Shenyang Urban by 7 to 1 over Baotou Nanjiao, 18 years after retiring and set the record for the oldest player to play in Chinese professional football. pic.twitter.com/WASUbta18h
— Terceira Div Chinesa (@Chinaleaguetwo) 12 May 2018
The win puts Shenyang four points clear after 10 games.
China League Two is the third tier of the Chinese football pyramid and unlike the Chinese Super League and League One it does not break for the World Cup.
Jiang apologises for no Iniesta but rules have led to sorry state of CSL
Shenyang play in the north division of the league, which sees the 28 teams split into northern and southern groups.
Our investor Mr. Zhuang Yi scored with a penalty, and make the record of oldest scorer in China professional football field. https://t.co/jpHs3MJ5hD
— Shenyang Urban FC (@ShenyangUrbanFC) 3 June 2018
Zhuang retired aged 27 in 2000 when he was playing for Shenyang Haishin – the club that went on to become Guangzhou R&F after brief stints in Changsha and Shenzhen. He had previously played for Liaoning in the mid-90s and also turned out for Beijing Guoan and was named young player of the year in
50 not out? Evergreen Japan football great Miura signs new contract aged 48
Zhuang will have to keep going to beat the record for the oldest scorer in world football. Kazuyoshi Miura, better known as Kazu, became the oldest scorer in Japan's J.League aged 50 least year and is believed to be the oldest professional goalscorer.
You are signed up. We think you'd also like