Boys 'took turns to rape Cumbria schoolgirl'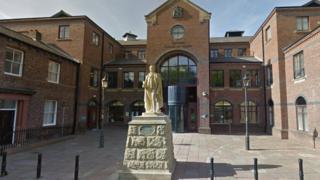 A 15-year-old girl told police four schoolboys took it in turns to rape her, a jury has heard.
The boys, all aged under 16, each deny two charges of rape and additional sexual assault charges.
Carlisle Crown Court was shown an interview the girl gave to police, in which she said the attack "seriously hurt" and she wanted it to stop.
The boys all claim the sexual activity was consensual.
The prosecution alleges the boys were responsible for a "pack offence", which is said to have occurred in a muddy field in Workington on the evening of 3 January.
The alleged victim told police she had never met the boys before.
Cans of cider
In the police interview the girl said the boys had asked "let me have a turn, let me have a turn".
She said she had drunk two cans of cider and was "a little bit too drunk to stop them."
"They just all kept taking, like 50-second turns, coz I remember one of them saying 'we just can't keep having 50-second turns, we've got to go all out'," she said.
In the interview, a police officer asked: "Would you have consented to any of these sexual acts?" The girl replied: "No. I was a virgin before."
The trial continues.