Romford woman found dead at home after 'cowardly assault'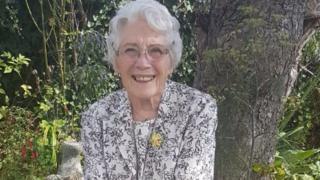 An 85-year-old woman has been found dead in her home after a "cowardly assault", police have said.
A handyman working at the address in Ashmour Gardens in Romford, east London, found the body of Rosina Coleman at about 11:30 BST on Tuesday.
Police said formal identification had not yet been carried out but officers are confident the body is that of Ms Coleman.
Murder detectives have not yet made any arrests.
Det Insp Paul Considine, who is leading the investigation, said police believe Ms Coleman was attacked between 07:30 and 11:30 on Tuesday.
He added: "This is a despicable incident in which the victim, an elderly lady who lived alone, had been subjected to a cowardly assault that left her with serious injuries.
"It is imperative that we find those responsible for this horrendous offence."
A neighbour, who did not wish to be named, said Ms Coleman was an "incredible woman" who had lived on the street for more than 40 years.
The 83-year-old man added that she was a seamstress who sewed all of her own clothes and made a suit a week.
Ms Coleman "couldn't face the world" after she lost her husband about 11 years ago, the neighbour said.
He added: "It's such a sad thing. I can't get my head around it. I can't think of anybody that would want to harm her."
At the scene: Rob Oxley, BBC Radio London
Forensics officers are still coming in and out of the semi-detached bungalow where Rosina Coleman lived alone.
Her neighbours tell me she was popular and well-liked.
Ashmour Gardens is a quiet residential street with children out playing on their bikes and people walking their dogs.
Those that stopped to talk said they were shocked something like this happened here.
A post-mortem examination is expected to be carried out on Thursday.
A police forensics tent has been erected in the garden of the property, with a tarpaulin sheet drawn across one of the glass windows.
Officers have also searched nearby drains and bushes.