Secret papers police officer committed gross misconduct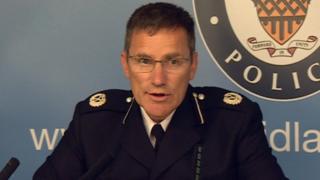 A senior counter terrorism officer with West Midlands Police is facing possible dismissal for leaving top secret papers in the boot of his car.
The highly classified documents were stolen from Assistant Chief Constable Marcus Beale's unmarked car in May.
A force disciplinary panel has found him guilty of gross misconduct.
In December Mr Beale, 54, who is due to retire in April, pleaded guilty to failing to safeguard information under the Official Secrets Act.
Magistrates fined him £3,500 and he has been suspended on full pay since November.
The panel heard several classified documents - including top secret minutes of a meeting of the Executive Liaison Group (which passes on intelligence of major covert terror investigations to police forces) - were placed in a metal briefcase in the boot of Mr Beale's car on 10 May.
The briefcase also contained details of organised crime and highly sensitive information about a high-profile investigation.
His car was then parked in several different locations over five days, including at a railway station while he had a weekend away with his wife, a pub, and a supermarket.
Mr Beale only realised the briefcase was gone on 15 May. The panel chair noted that the whereabouts of the secret papers remains a "mystery".
'Catastrophic'
Defending Mr Beale, John Beggs QC argued it was an "isolated act, wholly out of character" and urged the panel to take his 30-year career into account.
He summarised 98 testimonials in support of Mr Beale, who "has helped stop people being murdered and maimed" and referred to cases where terror plots were foiled as being partly down to his leadership.
Fiona Barton QC, representing West Midlands Police, said: "The impact could have been catastrophic.
"It is a matter of luck the documents do not appear to have seen the light of day.
"The documents should never have been in a locked briefcase and in an unattended car certainly not for a few minutes, let alone days."
The panel will make recommendations to the chief constable of West Midlands Police, Dave Thompson, on the action to be taken against Mr Beale, which could include dismissal.