Ladbrokes Coral in £3.9bn takeover talks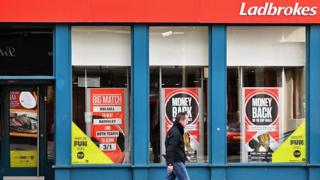 Gambling giant Ladbrokes Coral is in "detailed" talks over a takeover by online rival GVC over a deal which could value the group at up to £3.9bn.
Under the proposals, GVC - which owns the Bwin and Sporting Bet brands - would hold 53.5% of the combined group.
Ladbrokes Coral became the UK's biggest High Street bookmaker following last year's merger of Ladbrokes and Coral.
The maximum price GVC will pay will depend on the outcome of the government's review of gaming machines.
Ladbrokes Coral shares jumped 23% on news of the talks, while GVC's were up by 4%.
Price range
The Department of Culture, Media and Sport has said it will cap the size of stakes gamblers can make on fixed-odds betting terminals, amid concerns they may harm vulnerable people.
Ministers proposed that bets on the machines be cut from a maximum of £100 a spin to somewhere between £2 and £50.
GVC and Ladbrokes Coral said that the review could impact on the profitability of Ladbrokes Coral's UK business.
Under the proposed takeover deal, GVC will pay 160.9p for each Ladbrokes Coral share, which would value the company at £3.1bn.
However, if the outcome of the government's review of gaming terminals is favourable to the gambling industry, and imposes a higher limit on fixed odds bets, then GVC will pay Ladbrokes Coral shareholders a so-called "contingent value right" (CVR) of up to 42.8p per share. When added to the original payment, this could value the company at up to £3.9bn.
The takeover of Ladbrokes Coral could go ahead before the government announces the result of its review. Following the outcome, GVC would then pay the CVR to Ladbrokes Coral shareholders.
Ladbrokes Coral said the enlarged group would be an "online-led globally positioned" betting and gaming business that would benefit from a multi-brand, multi-channel strategy applied across some of the strongest brands in the sector.
"The enlarged group would be geographically diversified with a large portfolio of businesses across both regulated and developing markets, with the scale and resources to address the dynamics of a rapidly changing global industry."