White working class girls traded for sex, says Telford MP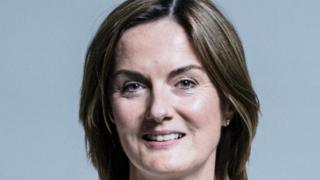 Vulnerable white working class girls are being traded for sex in a "routine way" an MP has told ministers.
Conservative politician Lucy Allan addressed fellow politicians in the wake of reports claiming up to 1,000 children could have been targeted in her Telford constituency.
Ms Allan said the cases would not have happened had the victims been from different backgrounds.
Calls are growing for a fresh inquiry into sex abuse in the Shropshire town.
Speaking at a Westminster Hall debate, Ms Allan said the girls had "multiple vulnerabilities".
'Rotherham-style' inquiry
Telford has found itself in the spotlight after the Sunday Mirror published a report about "groups of mainly Asian men" targeting vulnerable white teenagers in the town since the 1980s.
A lawyer who led prosecutions against one child sex abuse ring in Telford has said those cases were the "tip of the iceberg".
Ms Allan said the girls were targeted because of their backgrounds .
"It is also why so often they are miscast as bringing it on themselves, they are miscast as indulging in risky behaviour, as being promiscuous, as somehow being to blame for what is happening to them," she said.
"In their own minds, so often they also internalise that sense that they are somehow at fault."
Ms Allan said she was concerned difficult family backgrounds led authorities to see victims as "troublemakers" who were "too difficult" to deal with.
"Maybe that's why these crimes were not identified for quite so long," she said.
"Had those girls been from a different background, had they been able to articulate more clearly what it was that was happening to them, had they been able to identify that it was a crime then I think perhaps we would not have the cases that we're seeing in Telford, in Rotherham, in Oxford.
"How did it happen that our young girls are being traded for sex in what is becoming a routine way?
"Whether it's from takeaways or taxis or betting shops it's happening in our streets."
'Worst of all crimes'
Ms Allan previously called for a Rotherham-style inquiry into the allegations.
Telford and Wrekin Council, which initially resisted calls for a probe focused on the town, has since pledged its support for the idea.
Justice Minister Phillip Lee praised Ms Allan for her contribution, and said "strong women" in this area were needed to provide "leadership that is desperately required".
He added: "Child sexual abuse is, I think, the worst of all crimes."
Mr Lee said he had written a theses on "the psychology of the child sex offender" in the early 90s, and had been "somewhat sceptical" of estimates in textbooks about the extent of such offences across the UK.
"Sadly, that academic literature has turned out to be more accurate than I can ever have imagined," he said.