Man guilty of trying to kill WW2 veteran with hammer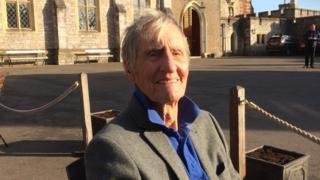 A man who attacked a 96-year-old World War Two D-Day veteran with a claw hammer during a raid on his home has been found guilty of attempted murder.
Joseph Isaacs, 40, of no fixed address, shouted "money, money, money" as he attacked Jim Booth on 22 November.
Mr Booth spent nine days in hospital after the raid at his home in Taunton.
He said later he should have known how to deal with the attack, because he had been in the special services, but was now too old.
Isaacs had previously admitted aggravated burglary, causing grievous bodily harm and seven counts of fraud.
He will be sentenced later.
Used bank card
The court heard Isaacs, formerly from Exeter, went to Mr Booth's home intending to obtain money as he had not eaten for days and was "starving".
He initially offered to carry out repairs to the roof, but when he was turned down he repeatedly hit the 96-year-old with a hammer and left him for dead.
Isaacs used Mr Booth's bank card to buy food at a McDonald's fast-food restaurant in Bridgwater after the attack.
The court heard Mr Booth was hit six times on the head, as well as on the arms with the claw side of the tool.
Between each blow Isaacs shouted "money, money, money".
Mr Booth suffered a number of skull fractures, bleeds to the brain, deep wounds to both his arms and a fracture to his right hand.
'Defended myself'
Speaking after he had recovered, he said he was told one of his arm injuries showed he had hit back at his attacker.
"I think I probably just defended myself. But I'm very much saying I blame myself because I was special services, you know.
"I think I should really have known how to deal with this, but I didn't. I was too old, obviously."
Det Ch Insp James Riccio, from Avon and Somerset Police, said: "It was a cowardly act and it's a miracle Mr Booth survived these horrific injuries."
Mr Booth, who joined the Royal Navy at 18, took part in one of the most secret operations of the D-Day invasion in Normandy in 1944, and talked about it in a 2013 BBC documentary.
He was part of a team of submariners who submerged close to Sword Beach.
On the day of the landings he and his colleagues left their craft in a fold-up canoe to shine beacons to guide the Allied landing craft safely to shore.