California fire burns Bel-Air mansions as spread continues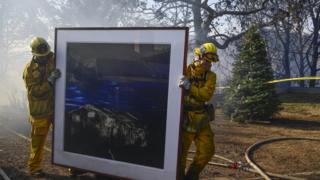 Residents of Los Angeles' wealthy Bel-Air neighbourhood have found their homes under threat after another wildfire erupted in California.
The so-called Skirball Fire destroyed several homes in the exclusive area, quickly spreading over 150 acres.
It is the latest eruption of wildfire in the state, which has already seen widespread destruction from a series of uncontrolled blazes.
The largest, named the Thomas Fire, has covered some 90,000 acres.
By Wednesday night local time, California's fire service said it had threatened 12,000 buildings, destroyed 150, and was only "5% contained".
Mandatory evacuation orders remained in several areas, as strong winds helped to spread the flames.
Authorities issued a purple alert - the highest level warning ever issued in the state - amid what it called "extremely critical fire weather".
Ken Pimlott, head of California's fire response, told reporters: "There will be no ability to fight fires in this kind of wind."
He said evacuations would be prioritised.
The nearby University of California, Los Angeles (UCLA) cancelled all classes on Thursday, despite the university campus lying outside the evacuation zone on the city's west side. It said it had taken the decision "given the array of uncertainties".
Many schools have also been closed.
In Bel-Air on Wednesday, firefighters were seen removing artwork from opulent homes as they attempted to contain the fire.
The neighbourhood is home to celebrities and business leaders including Beyoncé and Elon Musk.
Singer Lionel Richie cancelled a Las Vegas performance that had been scheduled for Wednesday evening, saying he was "helping family evacuate to a safer place".
Due to the devastating California Wildfires, and helping family evacuate to a safer place, I unfortunately have to cancel my show tonight. I look forward to returning to the stage this weekend and performing for my fans... https://t.co/tRMXiPOqUp
End of Twitter post by @LionelRichie
A large estate and vineyard owned by billionaire media mogul Rupert Murdoch was also threatened, and suffered some damage.
The Los Angeles Times said Mr Murdoch had paid $28.8m (£21.5m) for the estate four years ago - a sum 12 times the average family home price in Bel-Air of $2.45m.
The Getty Museum, which is also at risk, said it would remain closed on Thursday. It said it had not removed its artworks and that air filtration systems were protecting its collection - which includes pieces by Leonardo da Vinci, Van Gogh and Turner - from smoke damage.
The Thomas Fire in Ventura County remains the largest of the current blazes, having spread as far as the Pacific coast, with satellite images showing large areas of scorched earth.
Another blaze north of Los Angeles, named the Creek Fire, was also only 5% contained and covered some 12,600 acres. But it has only destroyed four buildings in the more sparsely populated area.
Across the entire state, more than 200,000 people have been evacuated.
One LA resident, 84-year-old Patricia Moore, was loading her belongings into her car when she told the AFP news agency: "Yesterday it was further north, but this morning we woke up and it was east of us.
"We heard the fire engines before six o'clock this morning, and we said, 'Maybe we should start getting our stuff into the car.'"
Are you in the area? If it is safe to do so, share your experience with us by emailing haveyoursay@bbc.co.uk.
Please include a contact number if you are willing to speak to a BBC journalist. You can also contact us in the following ways:
WhatsApp: +447555 173285
Tweet: @BBC_HaveYourSay
Upload your pictures / video here
Send an SMS or MMS to 61124 or +44 7624 800 100
Or comment here:
If you are happy to be contacted by a BBC journalist please leave a telephone number that we can contact you on. In some cases a selection of your comments will be published, displaying your name as you provide it and location, unless you state otherwise. Your contact details will never be published. When sending us pictures, video or eyewitness accounts at no time should you endanger yourself or others, take any unnecessary risks or infringe any laws. Please ensure you have read the terms and conditions.