Cardiff attack victim Matthew Sheehan dies after two-year coma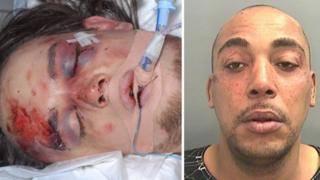 A man who was beaten into a coma following a row over a barking dog has died after two years in hospital.
Matthew Sheehan, 36, was battered by neighbour Raymond Burrell in a "severe and merciless" attack in Adamsdown, Cardiff, in September 2015.
Burrell, 40, was found guilty of inflicting grievous bodily harm in 2016 and jailed for life.
South Wales Police said it was working with the Crown Prosecution Service following Mr Sheehan's death.
A South Wales Police spokeswoman said: "We are aware of the sad passing of Matthew Sheehan on Thursday 9 November at the University Hospital of Wales, Cardiff.
"The South Wales Police major investigation team is now liaising with Mr Sheehan's family, the Crown Prosecution Service and HM Coroner in respect of his death."
Shooting dead
Burrell's trial heard Mr Sheehan was annoyed at Burrell's pet Staffordshire bull terrier barking from across the street.
Mr Sheehan was heard shouting "shut up" and made repeated complaints about the late night noise.
This prompted Burrell to attack Mr Sheehan, leaving him with "horrendous injuries to his head and body".
When Burrell was jailed, Mr Sheehan's father Martin said: "The day Matthew was attacked will forever be etched in our memories.
"We spend every day at his bedside hoping he will recognise us or get better. All we can do is sit and hold his hand."
Burrell previously served seven years behind bars for shooting dead his 17-year-old girlfriend, Amie Miles, in 2002.
He admitted manslaughter after saying his gun went off by accident.