Construction firm Lagan Group sold to Breedon for £455m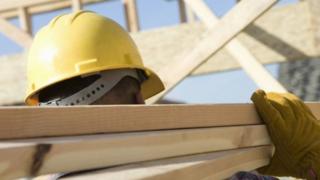 The construction firm Lagan Group has been sold to one of the biggest construction firms in the UK for £455m.
Breedon Group said the acquisition would allow it to enter the Irish construction market.
Lagan Group employs 750 people and made a profit of £46m last year.
The Lagan family business was formed in the 1960s but it was broken into two parts several years ago, with brothers Michael and Kevin Lagan going their separate ways.
This acquisition refers only to Kevin Lagan's part of the business.
It concerns the building materials divisions, with Lagan Homes being retained by Kevin Lagan.
Delighted to announce the acquisition of the Lagan Group. exciting times for us all. https://t.co/flAvg1Z2zF
End of Twitter post by @breedongroup
He thanked staff for their work in growing the company and said he was confident Breedon Group would help build on that success.
He added that he would now pursue "a managed growth strategy" with Lagan Homes and FastHouse, a modular house business where he is the majority shareholder.
In February, four businesses in Michael Lagan's Lagan Construction Group went into administration putting up to 200 jobs at risk.
The four companies impacted by the move were:
Lagan Construction Group Holdings Limited
Lagan Construction Group Limited
Lagan Building Contractors Limited
Lagan Water Limited