Florida: US couple hope to recover their sunken 'dream' boat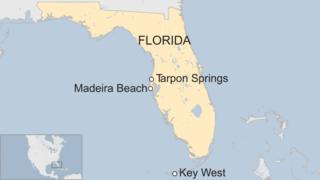 A US couple quit their jobs and sold all of their belongings to set sail on a boat, which then sank two days into their journey.
Tanner Broadwell, 26, and Nikki Walsh, 24, saved for two years to sail from their Florida home to the Caribbean in their 28ft (8.5m) boat.
But it hit an underwater object soon after setting off, forcing them to evacuate.
The couple have since set up a fundraising page to cover the repairs.
The page was set up four days ago with a target of $10,000 (£7,000), but it has already raised more than $14,000.
"We lost every single one of our belongings with no insurance, but we all made it to land alive & we are not giving up on our dreams!," Ms Walsh wrote.
They set sail last Tuesday from Tarpon Springs, heading towards Key West in the state's far south. However, on Wednesday night - after only one full day at sea - their boat capsized near Madeira Beach.
Mr Broadwell and Ms Walsh say they grabbed what they could before escaping.
The couple, who previously worked in Philadelphia and Colorado, spent two years planning their boat trip.
Mr Broadwell says he worked extra hours as a minicab driver in order to be able to afford it.
"I sold everything I had to do this, and I lost everything in the matter of 20 minutes," he told the Tampa Bay Times.
You might also find interesting