Annandale Distillery's whisky wait is over after 99 years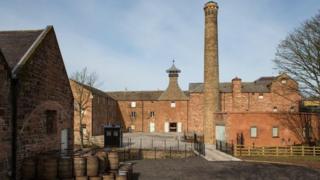 The first single malt whisky for nearly a century is beginning to flow at a south of Scotland distillery.
The Annandale Distillery shut in 1919 but a restoration project started about six years ago.
The first bottles are now set to be drawn off from a cask in a special ceremony at the site near Annan.
Managing director, Prof David Thomson, said he was delighted that whisky "of the finest quality and character" was being produced once more.
It is the culmination of several years' work and significant investment at the facility.
A peated whisky - called Man o' Sword in honour of Robert the Bruce - is to be produced along with the unpeated Man o' Words in tribute to Robert Burns.
Prof Thomson said: "Whisky distillation isn't new to Dumfriesshire.
"In the latter part of the 19th Century, three distilleries were producing locally; taking advantage perhaps of the abundance of peat for malting barley.
"Alas, all had closed by 1920."
He said the peated whisky had a "complex balance of smokiness, fruitiness and sweetness" while the unpeated was more "mellow".
"It's been an epic journey but 99 years after Johnnie Walker closed Annandale Distillery, seemingly forever, single malt Scotch whisky of the finest quality and character is about to flow once again," he said.
"At precisely 12 noon, exactly three years after we filled it, the contents of our very first barrel will make the mysterious, ethereal transition from new-make spirit to Annandale single malt Scotch whisky."
Co-owner Teresa Church said the renovation of the distillery had been an "enormous task".
"Many minds, hearts and hands have been involved in the transformation from old to new," she said.
"Present day Annandale Distillery exists in a different world from that of once familiar horse carts and water wheels and therefore has to step into a global technological arena to be successful.
"The proud provenance and brand story of The Man o' Words and Man o' Sword will hopefully build strong brand equity in the modern-day global market place."