No prospect of Stormont deal, says DUP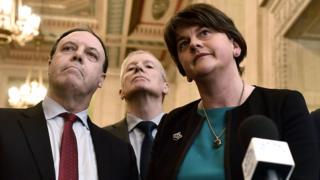 There is "no current prospect" of a deal to restore power sharing in Northern Ireland, the Democratic Unionist Party (DUP) leader has said.
DUP leader Arlene Foster said the talks failed due to disagreements over a "stand alone" Irish Language Act.
Sinn Féin's Michelle O'Neill accused the DUP of having "collapsed" the talks process.
Both parties have been locked in negotiations in a bid to end the 13-month stalemate at Stormont.
Mrs O'Neill, who is Sinn Féin's leader at Stormont, said her party had "reached an accommodation with the leadership of the DUP" but claimed that the DUP then "failed to close the deal".
She added that Sinn Féin was in contact with both the British and Irish governments would set out its "considered position" on Thursday.
'One-sided deal'
In her statement, Mrs Foster called on the Conservative government to set a budget for Northern Ireland and start making policy decisions.
The DUP leader said the latest round of talks have been "unsuccessful" and "significant gaps" remain.
"We do not have a fair and balanced package," she added.
The DUP would continue to aim for a restoration of devolution, she said, but it would "not accept a one-sided deal".
Under an agreement struck in Downing Street last summer, the Conservative government relies on the DUP's support to stay in power at Westminster.
'Angry'
However, SDLP leader Colum Eastwood said Northern Ireland parties must resist any return to direct rule from Westminster, with "the DUP having the whip hand".
He said he was "disappointed" and "angry" at the failure of the DUP and Sinn Féin to strike a deal to restore power-sharing.
Mr Eastwood said Stormont parties must "not allow this moment to be the destruction of all that we have achieved".
"We can't allow this British government, or this DUP to think that they're going to govern Northern Ireland on their own - that cannot be allowed to happen," the SDLP leader said.
"The spirit which underpins the Good Friday Agreement is one that recognises that we have two communities here, two nationalities, two sets of allegiances and we have to have that recognised in anything that goes after this."
"So we will be making it very, very clear to anybody who will listen that this cannot be direct rule with the DUP having the whip hand, but it looks to me, today, this is what these negotiations are about to deliver - that has to be resisted at all costs."
The leader of Alliance Party, Naomi Long, said: "We are in a very precarious situation at this point in time, we are essentially in unchartered territory."
Mrs Long said there was "no prospect of a deal and no process in place that could lead to a deal".
She added that hopes of an imminent deal had been "falsely raised" over the weekend and "now have seen them dashed yet again".
'Distraction'
Speculation of a possible breakthrough mounted over the weekend, as both the British and Irish leaders prepared to travel to Stormont to help seal a deal.
However, Prime Minister Theresa May and Taoiseach (Irish Prime Minister) Leo Varadkar left Belfast on Monday with no sign of agreement.
Former DUP minister Simon Hamilton described their visit as "a bit of a distraction".
"I don't think it was entirely helpful in getting us to a successful conclusion," he told a press conference on Wednesday.
Northern Ireland has been run by civil servants since the power-sharing executive made up of the DUP and Sinn Féin collapsed in January last year.
The then deputy first minister Martin McGuinness pulled Sinn Féin out of the coalition after a bitter split between the governing parties.
Mrs Foster confirmed on Wednesday that one of the key dividing issues was on the issue of the Irish language.
Sinn Féin has demanded legislation to give the language official status in Northern Ireland.
But Mrs Foster said that stance meant "we have reached an impasse".
"I respect the Irish language and those who speak it but in a shared society this cannot be a one-way street," she added.
"Respect for the unionist and British identity has not been reciprocated.
"In our view, there is no current prospect of these discussions leading to an executive being formed."